In general, visitors stay at Shukubo (temple lodging) in Koyasan

Koyasan has a shukubo (temple lodging) where you can experience the out-of-the-ordinary. Which Koyasan shukubo they stay depended on the hometown. This is likely due to the relationship between temples and various daimyos (Japanese feudal lord). A survey in 1832 discovered that there are 812 temples in Koyasan. However, the number of temples were reduced to 117 temples including 52 shukubo today because, the forest and land of Koyasan were confiscated by the goverment during abolition of clans and establishment of prefectures in Meiji era, and temples were lost by fires, caused by . Now, choosing a shukubo is a fun even, as each place has Shojin Ryori (Buddhist Vegetarian Cuisine), rooms, bathes, gardens and etc. And you can drink alchole such as Hanyato (sake and beer) if you want. How about spending a night in the holy site with a calm heart, eating Shojin Ryori and then waking up early for morning celemony if shukubo offers.

Koyasan Shukubo Association
---
1. Remove your clothes in the changing room (place your clothes/accessories in the basket)
*You must bathe naked.
(Do not wear a bathing suit)
2. Enter the bathing room
3. Wash your body first
4. Pour warm water on yourself to rinse away soap
5. Relax in the bath
*The towel is for washing yourself. Do not let it enter the bath.
*It is not good idea to sit in the bath for a long time. Don't over do it.
6. Get out of the bath
*Lightly dry yourself with the towel before leaving the bathing room
(To avoid water dripping in the changing room)
7. Return to the changing room
8. Wipe your body with a dry towel
9. Put on your clothes
10. Go back to your room
*After bathing, relax and ensure water intake.
*People with tattoos are generally not accepted in the baths. Please ask the facility.
*Drink and bathe is dangerous.
(After drinking, please wait a while before entering the bath)
If you leave your room to eat dinner, the futon will be laid while you are away, so please don't surprise.
Futons are mattresses and quilts that Japanese people traditionally use when they sleep. Futons are made of strong, tightly woven cloth and cotton stuffing. The Japanese have traditionally spread sets of futons (mattresses and quilts) directly upon tatami mats when they sleep. A set of Japanese bedding includes a mattress called a shikibuton, a sheet, a quilt called a kakebuton, and a pillow. Japanese people first spread out shikibutons when they get ready to sleep at night. The shikibutons serve in the same manner as mattresses do for Western-style beds. After that, sheets are put on the shikibutons and quilts are put on top of the sheets. Then people get in between the sheets and the quilts and go to sleep. People change their quilts and pillows when the seasons turn owing to the changes in temperature that come with the changes in seasons. People use the same mattresses throughout the year. They use thin quilts during the summer season, and thick ones during the chilly seasons. People also use blankets between their mattresses and quilts when it gets particularly cold. When it is too hot and sticky in the middle of summer, they cover themselves with thin sheets to sleep easily that are made of the same fabric that towels are. People also use rattan or rush pillows that feel cool in the summer. It is very effective to dry the bedding in the sun. This makes the bedding more comfortable to sleep in and also removes mites. Many Japanese are allergic or will become allergic to mites. Recently, electric futon-dryers for indoor use at home.
People only put the futons out when they sleep at night. In the daytime, when the futons are not in use, people fold the futons and store them in closets. This means that one room can be used as a bedroom, study, living room and etc at different times. Recently, however, Western-style beds and bedding have become popular in Japan, and younger people now tend to use Western-style beds and bedding rather than Japanese futons. Conventionally used cotton wadding is also being replaced by wool and feather wadding.
Unique Foods of Koyasan
Japanese food WASHOKU registered UNESCO World Intangible Cultural Heritage site.
Vegetarian cuisine of Koyasan is the origin of WASHOKU kaiseki.
Why don't you taste traditional dish.
Shojin Ryori(Buddhist Vegetarian Cuisine)

In Buddhism, the taking of any sentient life is wrong, so only vegetarian meals are taken.
The Shojin Ryori served in Koyasan originates in China, and has been adapted to Japan by monks over the centuries.
In accordance with Buddhist teachings Shojin Ryori is entirely vegan, and is based on the concepts of five flavors, five cooking methods and five colors.
A meal should include a grilled dish, a deep-fried dish, a pickled dish, a tofu dish and a soup dish.
Originally meals for monks, today this cuisine has developed into something more elaborate to be served to guests at temples.
Lunch at shukubo temples is available reservations are required at Koyasan Shukubo Association by 8:30-11:00.
Goma-Dofu(Sesame Tofu)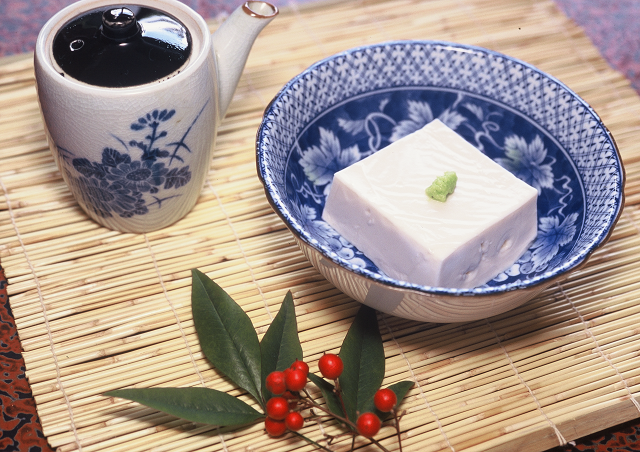 This simple dish made of roasted and ground white sesame seeds boiled together with starch powdered arrowroot is one of the most popular in Shojin Ryori.
It is a fragrant and nourishing dish with a silky texture.
---
Koyasan Guest House Kokuu is a guest house for travelers to Koyasan from any country in the world. (HP quote)